Well, me and one of the guys just spent some time out in the cold helping a truck driver unload boxes of Jets'n'Guns from the back of a truck. So, I guess this is the announcement to the blog that the game is in!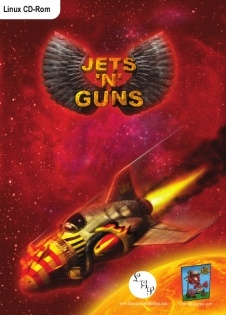 Jets'n'Guns is just like the old space shooters, like R-Type, that kind of thing, but with modern graphics, and a soundtrack that, well, Ive added the intro music to my playlist on my mp3 player!
We've also added an extra bonus over the Windows version, with PenguinPlay highscore tables. For those of you that don't know what PenguinPlay is, it is our online game matchmaking and highscore service, designed to bring Linux gamers a little closer together.
In Jets'n'Guns you take the part of an ex war-hero with no wars left to fight. Hiring out your services for pay, you must fly your ship through over 40 levels of enemies, some in space, some around planets. Your ship is fully customisable, with dozens of weapons and upgrades. As the game progresses, a storyline unfolds, and by the end, you aren't just a mercenary, you are saving the whole universe!
But I won't spoil the ending for you. You'll just have to play it to find out how it ends!
Tags: new release, rakeingrass, shooter, side scrolling, soundtrack